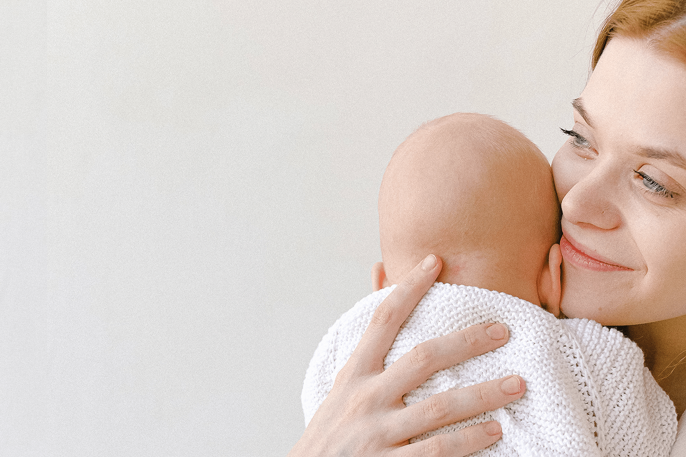 A woman is like a flower…
"And the flower blooms whether it is half, three-quarters or fully developed" – Anna Ras Menet
The biological cycle of a woman's life consists of several stages, accompanied by physiological changes characteristic of each stage. Girls become women, start families to enjoy pregnancy and motherhood. As time passes, women enter menopause.
Motherhood is one of the most important roles in a woman's life. A huge challenge, responsibility and boundless happiness. The initial period of a woman's parenthood is characterised by many difficulties and burdens – carrying a pregnancy, delivery, frequent "baby blues" symptoms, sometimes postnatal depression, which are a harbinger of further challenges of motherhood. Despite this, each new stage of life is unique for us.
Femininity and its variations are defined by and dependent on the levels of the hormones of youth – estrogens. The level of estrogens reaches its maximum at the age of 25-29 for women, then it gradually decreases, at the age of 50 the level is lower by 50%, and it falls dramatically in the postmenopausal period.
Estrogens – hormones of youth and joy
The role of estrogens during adolescence consists in the growth of the uterine muscle, the fallopian tubes and the definition of the external signs of maturity. They determine body fat distribution, which ultimately shapes the figure. Estrogens are also responsible for female libido and are important in regulating emotional condition. According to studies, women feel most intelligent when estrogen levels are at their highest during the menstrual cycle.
Estrogens are well-known to play a major role in the metabolism of bone tissue. They are involved in the process of bone formation and therefore their deficiency is reflected in a more rapid destruction of bones and leads to osteoporosis. More frequent fractures in the postmenopausal period exemplify this relation, with lower levels of estrogen in the body to blame.
Estrogens are the "gatekeepers" in maintaining a youthful appearance. The results of numerous studies confirm that they have an impact on the level of collagen and elastin, regulate the thickness of the skin and its vascularisation, prevent degenerative changes in skin proteins, maintain the proper level of hydration and stimulate cell renewal. In addition, they act as a natural antioxidant, protecting the skin against oxidative stress and inflammatory processes.
A drastic decrease in the hormones of youth is observed during menopause, preceded by a transition period. The first symptoms often appear much earlier, even 10 years (on average 5-6 years) before menopause. On average, it occurs around the age of 51, usually between the ages of 42 and 58. In 10-15% of cases, it occurs prematurely, i.e. before the age of 40, although it should be emphasized that the lifestyle, past or present diseases may affect the premature onset of menopause.
Therefore, it is important to realize and make your customers aware of the fact that hormonal changes are a silent and insidious "thief of youth". Hormonal aging is not strictly related to chronological aging. Unwanted and initially imperceptible changes occur deep in the body and affect the physiology of the skin. Thus, delaying this process and phytohormonal restoration takes time. Phytohormones act individually and must be used regularly and systematically for a minimum of several weeks.
The secret of preserving a youthful appearance
Taking care of a woman's natural beauty, based on the latest research, ARKANA has created the Woman Definition line – for health-conscious women. A holistic approach to the needs of the skin allows us to redefine feminine beauty and support women during hormonal changes and restore a youthful appearance and balance of the skin. As part of this year's BEAUTY FORUM AWARD 2022, the Woman Definition treatment was awarded the main prize in the BEAUTY PRO category – as the best professional procedure.
Woman Definition from ARKANA is designed to support female harmony. This is a dermoesthetic, phytohormonal supplement for women's skin. It is dedicated both to the prevention of hormonal skin aging and active rejuvenation of the skin with already visible symptoms of menopause as well as very mature skin care. It is perfect for mothers of all ages – it slows down the endogenous aging processes associated with a drop in estrogen levels.
During the procedure, there is a unique synergy of active ingredients and massage. Not only is it a feast for the skin, but also for the senses. The effects can be seen and felt immediately after the treatment, the skin is relaxed, soft and brightened, and the muscles of the face and neck are stress-resistant. Regular procedures and phytohormone skin supplementation combined with endomassage will help you achieve the feeling of even more supple and firm skin.
Redefining femininity
The role of modern cosmetology is to fight all the effects of aging, both before, during and after menopause. In addition to the available anti-aging measures, supplementation with phytohormones is necessary. At the same time, glycation of the skin proteins – collagen and elastin – must be prevented and measures to support the antioxidant system should be taken. Therefore, ARKANA has included two allies of women's skin in its cosmetics Phytogen and Feminage™.
The innovative Feminage™ ingredient is an extract from the leaves of Engelhardtia chrysolepis, rich in astiblin, a flavonoid with repairing and rejuvenating properties. It fights hormonal skin sagging and remodels facial features, restoring femininity and youthfulness. It also improves skin elasticity and firmness, while smoothing out wrinkles. Phytogen is a phytocomplex of 7 plants rich in natural phytoestrogens. The perfect selection and composition of plants results from their long-known use in phytotherapy and supplementation during menopause. Plant estrogens restore the hormonal balance in the skin and eliminate the signs of skin aging related to estrogen deficiency.
Hormonal changes also slow down the activity of the sebaceous glands, which results in disrupting  the level of hydration. Therefore, it is extremely important to supplement the skin with natural oils. Rice oil contains gamma-oryzanol and vitamin E, which have antioxidant properties. Thanks to cold pressing, raspberry, rosehip and blackcurrant oils retain their richness of ingredients such as omega 3 and 6 acids, vitamins A and E, carotenoids, flavonoids, phytosterols and phenolic acids. Thanks to their versatility, they have strong antioxidant properties, rejuvenate, brighten, improve flexibility, strengthen the protective barrier of the skin and soothe irritation. They increase moisturization as they prevent water loss through the epidermis and rebuild the intercellular cement.
Exceptional present for your mother – endomodelling rejuvenating treatment with phytoestrogens
Beauty salons recommend Woman Definition Therapy for every woman as an essential treatment in the prevention of aging, for rejuvenating the skin with visible signs of menopause and for very mature skin care.
The procedure starts with make-up removal with Woman Definition Blooming Foam. The foam can also be used to wash the delicate eye area. After that, the skin is toned with Woman Definition Essence Water. The next step is to perform a selected ARKANA peel. Enzymatic Peel is recommended for sensitive and delicate skin and Crystal Peel is recommended for normal and resistant skin. The exfoliator is washed off after a specified time and then the skin is intensely relaxed using a 4-step massage. Apply a portion of Woman Definition Massage Oil and perform an endomodelling massage, the instructions for which are available in the ARKANA media centre. After the massage is completed, massage in a portion of Woman Definition Estri Mask. In this step the skin is supplied with phytoestrogens, thus replenishing the body with natural youth hormones. After the massage, it's time for some rest and relaxation. Apply a modelling algae mask – Rejuvenating Algae Mask. After 20 minutes remove the mask thoroughly and apply Woman Definition Estri Serum. A warm, feminine and powdery scent wafts in the air during the treatment. Such a feast for the body and senses is a perfect gift for your mum!
Woman Definition is ideal for all women over 35
Positive changes occur as early as after the first treatment, the skin is visibly smoother and firmer. There will be effects visible to the naked eye after a series of treatments, depending on the initial condition of the skin, not only on the customer's age but also on the advancement of hormonal changes. As for younger customers, we suggest a treatment once a month and home care in between other therapies tailored to the current needs of the skin. For those already noticing moderate signs of aging, the treatment series should include 2 treatments every 14 days, then 1 treatment once a month. Visible changes caused by hormonal skin aging require intensive action – in the first two months – 1st series: 4 treatments every 7 -10 days, 2nd series: 2 treatments every 14 days, then once a month to maintain the effects.
The original endomodelling face and neck massage can also be performed during other therapies, enriching them with a great relaxation of muscle tensions. The cosmetics recommended for home care support the youth and beauty of women aged over 35, being supplementary and complementary to other ARKANA lines.
Cosmetics instead of sweets – a great gift idea for your mother
If you are still wondering what to get your mum for a present and you want it to be something really special – choose a unique support for good looks and well-being. Give her a voucher for a relaxing and rejuvenating Woman Definition treatment. You can also add a cream from the same line as an extra gift for your mum. Woman Definition Estri Cream will uniquely complement your skincare routine and provide your skin with the phytoestrogens it needs to look beautiful. A set of cosmetics such as Woman Definition Blooming Foam and Woman Definition Essence Water will also be a good idea. Such a gift will give her a whole lot of pleasure.
The Woman Definition treatment is the first dermoaesthetic, phytohormonal skin supplement for women, restoring the balance and a youthful appearance during hormonal changes. It is a treatment that effectively slows down the processes of endogenous skin ageing associated with a decrease in estrogen levels, the intensification of glycation processes and oxidative stress. It is the essence of pleasure and effective anti-aging approach. A combination of relaxation and care for health, beauty and well-being of every woman.