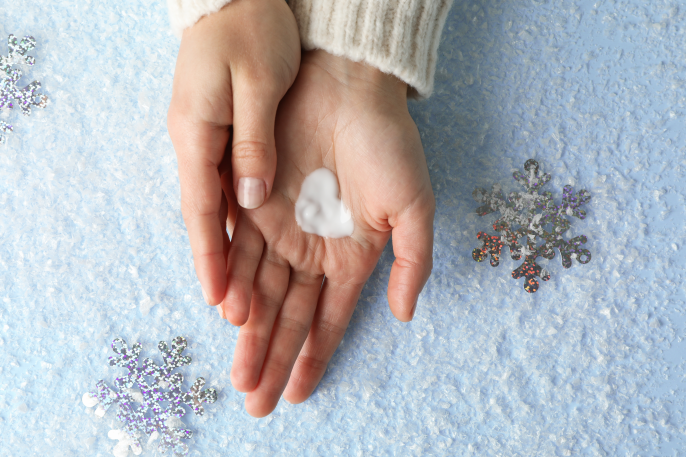 The skin of the hands is extremely delicate, so it should be given special attention and properly cared for. Winter is particularly difficult due to the negative temperatures outside the window and the hot air of the heated rooms makes our hands dry.
The pandemic forced us to use disinfectants and wash our hands more often, which, unfortunately, is not conducive to keeping the skin of the hands in good condition. By frequent washing, the natural protective barrier of the skin is violated, which helps the skin to maintain an adequate amount of water on a daily basis. Here are some tips to keep your hands dry and irritated:
Do not leave the house without gloves – in winter your hands must be warm
Before putting on gloves, protect your hands with a barrier cream – you will provide additional protection
Regularly, once a week, perform a hand scrub – a mixture of sugar and olive oil can be used for this. Rub the ready mixture into wet hands and then rinse with warm water.
Use moisturizing and nourishing hand creams. Carry it in a purse and use it whenever you feel your skin is getting dry. Use also after washing your hands
Wash your hands with gentle preparations that will not allow your hands to dry out
Cover your hands with a thicker layer of cream at night, and then put on cotton gloves – the occlusion will make your hands soft and smooth in the morning.
Drink water – too little water in our body appears in the form of dry skin.
Brighten and smooth your hands
Winter is also the perfect time to lighten your skin. With age, the so-called lentil stains that result from chronic exposure to sunlight. ARKANA has prepared a unique set with a limited hand cream with retinol. "24h skin rejuvenation" is a set that helps brighten and rejuvenate the skin of the face and hands. It includes day and night care products: Reti Fusion® Vecti + Essence Mask, Reti Fusion® Vecti + Cream SPF 15 and the limited Reti Fusion® Hand Cream, which you can use under gloves as an intensive night rejuvenating treatment for hands.
S.O.S for dry and irritated hand skin
Take care of your hands while washing them. Choose a delicate product that will not only cleanse your skin, but thanks to carefully selected active ingredients, it will nourish and regenerate it. This is what Neuro Cannabis Hand & Body Wash is like with hyaluronic acid, glycosaminoglycans and rice proteins, which additionally smooth the skin. After washing, apply a layer of Neuro Cannabis Hand & Body Balm with 20% hemp and poppyseed oil, which perfectly regenerate and nourish the skin and reduce the accompanying feeling of dryness. Perfect for the daily care of the hands and the whole body. Now in the "Neuro relaxation for skin" set you will find a limited Neuro Cannabis Hand Mask in a capacity perfect for a handbag. The set also includes: Neuro Cannabis Solution and Neuro Cannabis Cream- Mask dedicated to stressed and overactive skin.