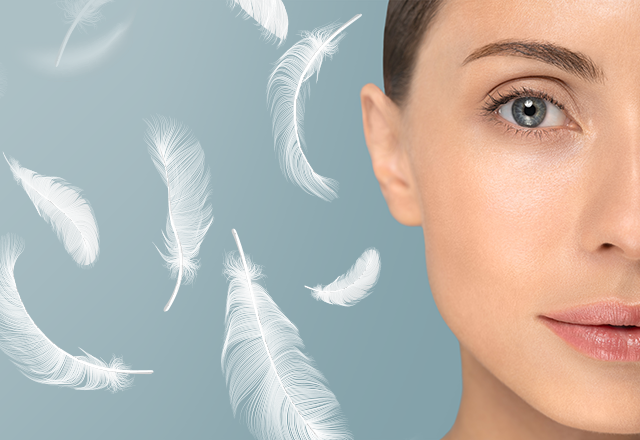 The problem of sensitive skin is one of the most common problems encountered in beauty salons. It affects over 50% of society, both men and women. Sensitive skin requires a specialized approach to care, both treatment and home. Especially in winter, when it is exposed to frequent temperature changes, it is worth providing it with additional support with appropriately matched treatments in the beauty salon.
Sensitive skin
Sensitive skin is most often associated with the problem of redness and the accompanying feeling of warmth or even burning. It is very often irritated and tense, even after washing with plain water or using delicate cosmetics. It should be remembered that sensitive skin does not always mean capillary skin – with visible "spider veins".
There are three types of sensitive skins:
Sensitive skin with capillaries
Sensitive skin with disturbed hydro-lipid barrier
Periodically irritated by, for example, aggressive treatment or improper care
What treatments and home care for each of the above types we recommend? Below are our tips.
Overactive skin
If the skin is visibly red, and in the cosmetic interview, the client will provide information that he reacts with a feeling of heat, e.g. to temperature changes, emotions, after drinking hot drinks and alcohol, as well as after consuming spicy dishes – we deal with vascular (overactive) sensitive skin. In people with overactive skin, the functions of the epidermal barrier are disturbed, the skin is thin, the blood vessels are fragile and the nerve endings are extremely sensitive. Therefore, very often itching or even pain appears at the time of erythema.
The solution for such skins is the Neuro Sensi Therapy treatment, which – as the name suggests – is targeted at particularly sensitive, overactive skins. The treatment in the office consists in preparing the skin with the use of delicate make-up removal products and a peeling appropriately selected to the skin's needs. The next step is to apply a layer of serum and a mask, which work for many hours until they are washed off the skin, reducing the symptoms of skin hypersensitivity. ARKANA experts used the clinically proven activity of EndothelyolTM and SensAmone P5 ingredients. For home use, recommend Neuro Sensi Cream (for the day) and Neuro Sensi Mask (for the night) to your client, which will maintain the effects of the treatment in your salon and provide relief in everyday problems of overactive skin.
Sensitive and dry skin
We recommend Neuro Cannabis Therapy to clients with sensitive skin with a disturbed hydro-lipid barrier. Such a disorder is most often manifested by dryness and peeling of the skin. Neuro Cannabis therapy is perfect for sensitive and stressed skin, as well as during oncological treatment, when the skin is exposed to various irritants. It is also an excellent alternative for people with thyroid disorders or diabetics. It is ideal as a support for dermatological treatments in atopy, eczema and psoriasis. The main component of the Neuro Cannabis Therapy line is Kannabia SensePLF – a raw material obtained from stem cells and hemp cell oil. It has anti-inflammatory, immunostimulating, antioxidant and influencing the skin microbiota to stimulate the synthesis of happiness hormones. The addition of hemp oil, rich in EFAs, allows the disturbed coat to be sealed in the lipid layer. The treatment in the salon is enriched with a "Cannabis Beauty Points" massage, which allows you to additionally relax the skin. For home care, we have created a whole range of products – from delicate, washing foam – Neuro Cannabis Foam, to Neuro Cannabis Elixir-Cream day creams and Neuro Cannabis Cream-Mask at night.
Periodically irritated skin
Periodically irritated skin, it is recommended to use lactobionic acid therapy. This extremely delicate acid allows you to strongly regenerate irritated skin after dermal aesthetic treatments, retinoid therapy and steroids. It soothes irritation, redness and strengthens the hydro-lipid barrier. It is perfect as a component of preparations for the care of skin with inflammation of various etiologies, including skin with rosacea. Additionally, it has strong moisturizing properties, making it recommended for dry and dehydrated skin. The in-office treatment with the use of Lactobionic Sensi Peel can be used as an independent treatment, but also complementary after exfoliation with demroesthetic peels and micronutrients in order to accelerate regeneration and enhance the effects of therapy. It is also recommended as an alternative in the case of contraindications to treatments with other, stronger acids. For home care, ARKANA experts have created skin preparation products such as Lactobionic Micellar Gel and Lactobionic Micellar Toner, as well as creams with 5 and 10% lactobionic acid. You should remember to start the treatment with lactobionic acid in home care at least with a cream with 5% lactobionic acid to get the skin accustomed.
Skin with rosacea
Rosacea is the domain of sensitive, capillary skin. The solution in the Clinic is the AzAc Peel set treatment, which after application to the skin works for another 6-8 hours until it is washed off. Azelaic acid prevents excessive keratinization, thus preventing the formation of blackheads and blocking the sebaceous glands. It reduces the multiplication of Cutibacterium acnes and Staphylococcus epidermidis – bacteria involved in the formation of acne. Additionally, it reduces the activity of the sebaceous glands and regulates the secretion of sebum. It also has a brightening effect and inhibits melanin synthesis. Effects guaranteed after 4 weeks from the first treatment. For home care, we recommend AzAc Forte 15% Cream and AzAc Solution.