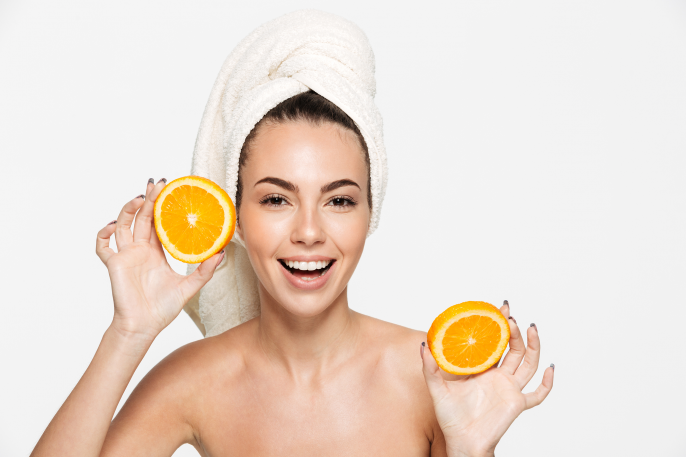 Queen of vitamins
Vitamin C is the undisputed queen of vitamins that have been used in cosmetology for many years. Thanks to numerous studies, it is one of the most known raw materials. Due to its mainly antioxidant properties and its participation in the production of collagen, we can often find it in anti-aging therapies. In addition, vitamin C seals blood vessels and inhibits the production of melanin, thanks to which it is also used in brightening therapies.
New forms of vitamin C
Despite being at the top of the vitamin, vitamin C cannot be synthesized and stored by itself in the human body. That is why we must constantly deliver it to our body, but also to the skin! 16 lemons – this is the exact number that should be eaten to meet our daily requirement for vitamin C. Such a "lemon diet" will not, however, give the expected vitamin C accumulation effect. Its pure form in the form of ascorbic acid is very unstable. Applying it externally in its pure form will also not work, due to the effects of oxygen, light and temperature on it, which affect the loss of its properties. Moreover, it will have an irritating effect because it requires a very low pH when fully active. So what is the solution? New forms of vitamin C! Work on increasing the stability and increased penetration of vitamin C has resulted in the creation of its new forms. The most stable form turned out to be ascorbyl tetraisopalmitate – you can find it in cosmetics under the name Ascorbyl Tetraisopalmitate.
The perfect solution – fusion
The results of the research have shown the significant effectiveness of its action in the case of using a combination of various forms of vitamin C in one cosmetic preparation and other substances that work synergistically with it. So what to combine vitamin C with in office treatments dedicated to the face? Vitamin C likes the company of polyphenols – i.e. compounds showing antioxidant activity and destroying free radicals. Such a substance is curcumin – a compound isolated from turmeric, a plant that most of us know from our kitchen. Curimine itself is also gaining popularity in medicine, where it has an anti-inflammatory effect and supports the treatment of dermatological diseases such as psoriasis and atopy. In our new line C – Fusion Glow we have used a fusion of three forms of vitamin C and curcumin. In addition, they have been closed in special liposomal carriers – Vecticell, thanks to which they have increased penetration and easier to overcome the epidermal barrier, as well as extend the effects of action.
The effect of vitamin C and curcumin on the skin
It is already known that vitamin C with curcumin on the face has a positive effect on our skin. How does vitamin C and curcumin work on the face? Treatments with vitamin C and curcumin will prove useful during rejuvenating therapies and in the prevention of skin aging, reducing erythema and sealing blood vessels, strengthening treatments with retinol, brightening discoloration and evening out the color, and as support after IPL, RF or microneedling treatments. Vitamin C and curcumin is also a great solution for wrinkles.
Dermocosmetic shot of youth and immunity
The combination of vitamin C and curcumin is known for its energizing cocktails and supplementation. Curcumin is an adaptogen – a substance that naturally increases the body's resistance, endurance and performance under unfavorable conditions. C – Fusion Glow is a treatment with a shock dose of vitamin C in the three most effective forms and active curcumin. The effects of vitamin C and curcumin on the face are primarily illumination – immediate glow effect, skin rejuvenation, slowing down skin aging, strengthening blood vessels. In the treatment, the serum with vitamin C gives a shock dose of vitamin C in three forms, and the addition of curcumin causes a strong antioxidant effect. The treatment is finished with C-Fusion Booster, which, thanks to the addition of Lumiscine, adds shine and enhances the action of C-Fusion Glow Shot – ampoules. When to use the vitamin C serum treatment? Our proposal is perfect for everyone – regardless of gender and age. Especially recommended for tired, gray skin, devoid of natural glow, sun-damaged, stressed and smoker's skin. The vitamin C treatment will complement other treatments you are currently on.
How to use vitamin C and curcimine in face care?
In addition to supplementing and supplementing the daily requirements in our diet of vitamin C and curcumin, we should also supply the skin from the outside. Thanks to the fusion and encapsulation of vitamin C and curcumin, we are able to deliver the necessary ingredients deep into the skin without the irritating effect. A common question of our customers is what not to combine vitamin C for the face with? The queen of vitamins does not require too much and you can include it in your daily care and, no matter what the problem you are currently facing. Vitamin C and curcumin on the skin can be used as a complement to the anti-aging treatment in our Peptide Pro Age line, you can also include it in the care of skin with discoloration and complete the Unitone Neuro Therapy line by adding a shock dose. C – Fusion Glow Illuminator cream is perfect as a skin preparation for make-up, and will also be a good care choice for men, due to its natural, fresh and unisex fragrance.