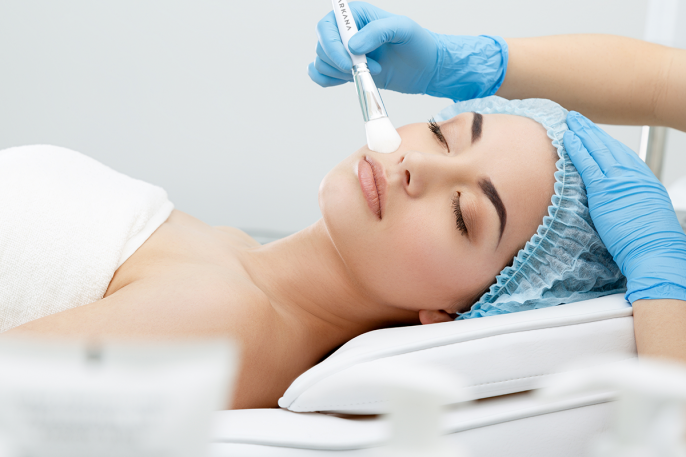 Chemical peels are one of the most popular treatments in modern cosmetology. Their main task is to fight the aging process and eliminate skin changes such as: discoloration, acne, scars and stretch marks. Contrary to popular opinion, chemical peels do not have to be used only in the fall and winter. There are acids that can be safely used even in summer because they are not photosensitizing and phototoxic.
Chemical peel with acids
By definition, the purpose of chemical (acid) peeling is to trigger a controlled inflammatory reaction in order to stimulate skin renewal and regeneration. The effect of the inflammation is exfoliating. It may be larger or smaller depending on the individual's reaction and the type of peeling. It should be remembered that exfoliation is not an indicator of the effectiveness of the treatment. The biological action of the acid can be preserved without visible irritation and exfoliation. The base of the peeling, the method and time of its application also have a huge impact. The basic principle of summer acid treatments is to avoid high concentrations, e.g. 45% of pyruvic acid combined with Acid Flower contained in Pyruvic Flower Peel, retinol in Reti Fusion® Vecti + Peel and in Phyto Phenol Peel, or mixtures of acids included in J Evolution Peel. It is equally important to use the correct treatment technique.
The benefits of summer acid treatment
The role of summer peels includes:
maintaining the effects of exfoliating treatments
increasing the skin's tolerance to stronger acids
promoting the penetration of active ingredients applied after them
stimulating the regeneration processes and thickening of the epidermis
skin preparation and increasing the effectiveness of apparatus treatments
Acid treatments in warm countries
Remember that even in countries with year-round sun, acid treatments are performed. The choice of the type of peeling should depend on the condition of the skin, its current needs, excluding contraindications. The lifestyle, duration and intensity of exposure to solar radiation are equally important. You should not be afraid of treatments with chemical peels in the summer, because while maintaining adequate protection, incl. protective cream with 50+ filter, the risk of discoloration drops to almost zero.
Which one to choose?
ARKANA offers several treatments with chemical peels, for which you can go to your favorite Beauty Salon. The cosmetologist will choose the right acid taking into account the problem with which your skin is struggling and the effects you want to achieve. It is worth reaching for chemical peels for express and spectacular effects!
Chemical peels that you can use in the summer are:
– mandelic acid – used for selected ARKANA treatments. Recommended for sensitive, acne-prone, oily and mature skin- Mandelic Forte Peel
– azelaic acid (AzAc Peel) for acne-prone, rosacea, vascular and sensitive skin- AzAc Peel treatment
– lactobionic acid, which moisturizes and regenerates the skin even after intensive treatments. Safe also during and after treatment with retinoids and steroids- Lactobionic Sensi Peel
– shikimic acid recommended for dirt-prone, acne-prone, oily skins with seborrhea- Acne QS Hacker Peel
– lactic acid – provides strong hydration, improves skin tone and elasticity- Neuro GABA&NANA Peel
You will learn about the benefits of each of the above acid peels in separate blog entries.
In the next week, you will learn more about mandelic acid and its properties.