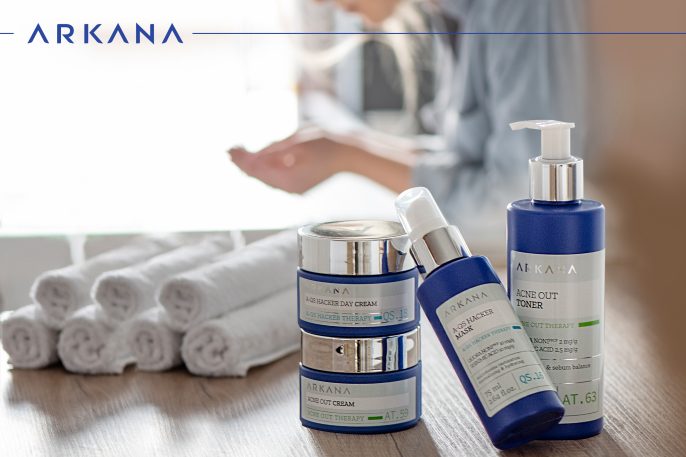 In the summer our skin's needs changes in daily care. The main cause of these changes is high temperature and UV radiation. We often get questions from you – should face care in the summer be different than before? Which treatments should not be performed in the summer and what cosmetics are safe to use? The most frequently asked question is: how to care for acne-prone skin? Is there one recipe for taking care of the skin?
Summer face cream – how to choose the best one?
The best face cream for the summer is the one with a high SPF. Under the influence of solar radiation, irreversible changes and damage to the collagen fibers in the skin occur – in other words – the aging process accelerates. Sunlight can also lead to discoloration, allergies and skin cancer. Protection is just as important during holidays, swimming in the pool, sunbathing, as well as when walking, shopping or doing summer sports.
Eco & Skin Friendly Sun Protect Cream is our flagship cream with SPF 50 filter. What distinguishes it? It has an ultra-light texture, is odorless and non-comedogenic – it does not contribute to the formation of blackheads – it can be safely used even under makeup and for people with acne skin.
Cleansing in the summer for acne-prone and sensitive skin
The basis for taking care of oily, capillary and acne-prone skin is their proper cleansing. The first stage of skin care, which prepares the skin for the next steps. Problematic skin prefer light products – that's why we recommend choosing a gel or foam for their cleansing, in our offer you will find Women Definition Foam – a delicate foam formula recommended for mature skin of women, also for sensitive and vascular skin. Neuro Cannabis Foam – gently cleanses, recommended for washing stressed and dysfunctional skins and Lactobionic Gel – moisturizing cleansing gel for all skin types, especially for sensitive, vascular skin and Acne Out Gel – cleansing gel regulating the skin microbiome, contains mild cleansing substances that remove excess sebum, ideal for oily skin.
Moisturizing is the key!
Oily skin in summer is a real care challenge. And here we will probably surprise you – oily skin can also be dehydrated. Why? The excess sebum accumulating on the skin is the result of excessive activity of the sebaceous glands. However, the amount of water in the epidermis, regardless of whether you have oily or dry skin, may not be enough. When this happens, oily skin begins to produce more and more sebum because it is a defensive reaction to insufficient water. In this way, it strives to maintain "balance", or in other words – it becomes more and more greasy. So what to do? Moisturize! Moisturized skin is a skin free from imperfections, firm and smooth.
Hydration from the inside is of course drinking plenty of water, especially in summer, when our body's need for water is much higher. However, from the outside, the product should be selected in such a way that it does not contribute to the formation of blackheads, moisturizes and at the same time mattifies the skin. It is worth supplementing the care with a light moisturizing cream from the Hydrospheric line and the Transform HA Filler cream – these are creams with a light consistency that will not block the sebaceous glands and will perfectly complement the water deficiency in the epidermis. Below, we present a few cosmetics dedicated specifically to acne-prone skin, which, when used alternately with a moisturizing cream, will constitute a comprehensive care kit:
We recommend a matting cream that your acne skin will love:
Acne QS Hacker Day Cream, which in addition to the active substance Quora Noni PRCF, also contains rice powder and white clay, which absorb excess sebum and give the skin a matte finish. The addition of hyaluronic acid provides hydration and regeneration. Perfect for the day for oily and acne-prone skin. Also under makeup.
Acne Out Cream also has active ingredients that reduce the secretion of sebum, reduce the amount of inflammation and prevent the formation of new ones. It has a perfectly light and quickly absorbing formula that mattifies and extends the durability of make-up.
Effective night cream for acne:
Acne QS Hacker Night Cream – the perfect proposition if you are looking for a cream that works while you sleep. It contains the active substance Quora Noni PRCF and bakuchiol – a botanical retinoid that supports the normalizing effect and regulates the exfoliation processes, but unlike retinoids derived from vitamin A, it is safe for use in the summer.
For use without fear in the summer, we include a list of cosmetics:
– Gel for oily, acne-prone and mixed skin 200 ml
– Tonic for oily, acne-prone and mixed skin 200 ml
– Acne eliminator 15 ml
– 50 ml dermo-hacker mask
– 28 D Flower Peel
How to take care of capillary skin in the summer?
Capillary skin requires avoiding overheating and significant temperature changes in summer, e.g. by moving from air-conditioned rooms to hot streets. We know that it is difficult, so we recommend using cosmetics that will protect blood vessels against their excessive expansion. For this purpose, we recommend products from the series:
Acid Therapy – therapy based on the spectacular properties of azelaic acid, which works on three levels – antibacterial and seboregulating, anti-inflammatory and antioxidant, and brightening. The treatment is an effective prophylactic tool in the case of vascular skin prone to rosacea. Cosmetics can be used all year round – independently or in combination with professional treatments. We recommend AzAc Forte 15% Cream and AzAc Solution tonic.
Unitone Neuro Therapy – is a therapy that brightens discoloration (hormonal, inflammatory and sun-related) and reduces erythema thanks to the content of tranexamic acid (TXA), vitamin C in a modern form, and anti-inflammatory niacinamide. The combination of these active substances accelerates skin regeneration and soothes irritations. In the series you will find a cream and an elixir for an intensive vitamin treatment.
Neuro Sensi – is a line that calms, soothes irritations, reduces redness and seals capillaries, thus reducing their visibility and preventing the formation of "spider veins" – dedicated to very sensitive, vascular skin that needs relief. In this line you will find two creams that will soothe vascular changes. Day cream Neuro Sensi Cream – a cream with a very light texture, perfect for summer. Its composition includes active ingredients reducing irritation and erythema with the addition of calamine, which provides a powdery luminous finish, giving a spectacular "baby face" effect. Night cream in the form of a neuro mask – Neuro Sensi Mask – rich in active ingredients, it is a targeted night repair of vascular and overactive skin. Provides daily relief and comfort. The Neuro Sensi line is also perfect for the care of skin irritated by excessive sun rays. It can be used even in the case of oily skin on the face.
Summer face beauty treatments
You are probably wondering how to take care of acne and vascular skin in the summer. In addition to home care, it is advisable to perform treatments in a beauty salon. Yes! You do not have to give up on their exercise during the summer. The ARKANA offer includes a wide range of treatments that can be safely performed even in summer. Remember to discuss the choice of treatment with your cosmetologist and match the skin needs.
We especially recommend:
cavitation peeling – you can use this gentle peeling all year round
Hydrogen purification – its non-steam version can be found in ARKANA's offer
the entire Neuro GABA & NANA series – immediately lifting the skin, created on the basis of active substances – GABA and NANA neurotransmitters, which provide comprehensive benefits – smoothing wrinkles, improving tension, and instant hydration and filling of the skin. The excellent effects are enhanced by the presence of hyaluronic acid – high and low molecular weight.
the aforementioned series: Unitone Neuro Therapy, Acne QS Hacker Therapy and Acne Out Therapy.
all skin moisturizing and soothing treatments.
Bet on acids
Acids in the summer? Of course! ARKANA's offer includes acids and peels that can be used all year round. They include, among others peels with lactobiic acid – delicate formula, additionally moisturizes and regenerates the skin. Recommended for sensitive and capillary skin. Another acid, this time recommended especially for oily skin, is shikimic acid – a component of the A-QS Hacker and Acne Out lines. Shikimic acid controls the secretion of sebum, regulates the keratinization processes and blocks the growth of bacteria and fungi on our skin. And, of course, the aforementioned Azac Peel azelaic acid, which can be safely performed in the summer.