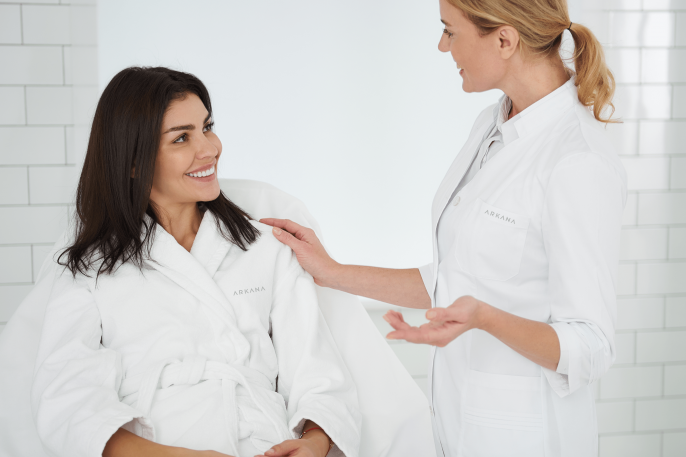 Are you concerned that the upcoming spring is the end of your clients' acid treatments? Not necessarily – learn about safe peels for spring.
The autumn and winter period in most beauty salons is known for intensive treatments and chemical peels. Customers are more likely to choose acid treatments because of the lower risk of exposure to sunlight. But does the spring-summer period disqualify clients of beauty salons from exfoliating treatments?
Safe peels for spring
First, learn about safe peels for spring. Among the acids in ARKANA's offer – you will find those that can be used all year round without fear. This group includes: lactobionic acid – Lactobionic Peel, azelaic acid – Azac Peel, shikimic acid – A-QS Hacker Peel, mandelic acid – Mandelic Forte Peel, rosmarinic and coffee acid – Unitone Peel, flower peeling for the eye area – Eye Flower Peel, neuropeel with GABA and NANA acid – Neuro GABA & NANA Peel.
When to use safe peels for spring?
This is a very wide group of peels that are a solution to many skin problems of customers in a beauty salon and the treatment series does not have to be finished before the first sun rays. Lactobionic acid will be perfect for sensitive, vascular, dehydrated skin as well as for those after more intense peels – it will help the skin regenerate. In combination with azelaic acid, it will be an ideal treatment for skin with rosacea. Azelaic acid itself is a solution for acne skin, contaminated and with the first post-inflammatory discoloration. It creates the perfect duo of safe spring peels with A-QS Hacker Peel in the fight against common acne. This group also includes mandelic acid, which will perfectly cope with the imperfections of our skin, it is a good choice for skin with excessive sebum secretion, but also works well in anti-aging and discoloration treatments. Together with Unitone Peel, it will create the perfect combination in the fight against discoloration. The last completely safe peelings for spring are Eye Flower Peel and Neuro GABA & NANA Peel – an excellent choice for mature skin with wrinkles, and in the case of peeling for the eye area, it is a solution to 6 major problems of the skin around the eyes.
Safe peels in spring in home care
The clients of the clinics can also take care of proper skin care at home. There, too, they do not have to give up peelings and the use of acid-based products for the spring period. In the February beauty plan for your customers, you will find the 28 D Peel Set – a duo of products that effectively activates regenerative, rejuvenating and normalizing processes, and supports regeneration after professional chemical peels. Progressive gel peeling is a 28-day program of controlled overnight exfoliation and skin renewal. It is compatible with any ARKANA cream. It is an excellent preparation of the skin for treatments in the office, but also supports and extends the effects achieved with advanced treatments. Day after day, it gradually exfoliates dead skin cells and stimulates the formation of new cells.
Safe peels for pre-spring period
Before spring comes and the sun is full, it is time for more aggressive peelings – in February promotional kits for beauty salons, you will find peeling kits for your clients for a reason. Our three best-selling peels that will guarantee the effect after the first application. Thanks to the unique compositions, they will be a remedy in the fight against discoloration, scars and uneven skin tone (Reti Fusion® Vecti + Peel 2.5 ml + 5 ml); wrinkles of varying intensity (Phyto Fenol Peel 2 x 5 ml); acne vulgaris and rosacea, regardless of age (AzAc Peel 2 x 5ml) – the latter is a safe peeling for spring. This group includes the Amber & Glycolic Exfoliator peeling – an ideal treatment for spring pre-emergence – gray, tired skin will provide visible GLOW and nourishment, and in combination with vitamin C it will provide an immediate effect – now included – Vit C & Amber Set. The end of winter is an ideal opportunity to fight against imperfections resistant to other peels. Take advantage of the possibilities and the J Evolution Peel Set. It is an excellent alternative to classic Jessner scrubs. The peeling will comprehensively take care of intensive rejuvenation, reducing scars and stretch marks.
Post-treatment care
Appropriate post-treatment care also determines the safety of the treatment used. Therefore, be sure to equip your client with the Post Treat Set – now at a promotional price. Inside, you will find the right products to support the regeneration of the skin after chemical peels. Three products that will take care of: alleviating irritation, reducing skin dryness and flaking, as well as daily protection against UV rays in 3 steps. You can also recommend the set in home care for irritated skin and skin with a disturbed protective barrier.