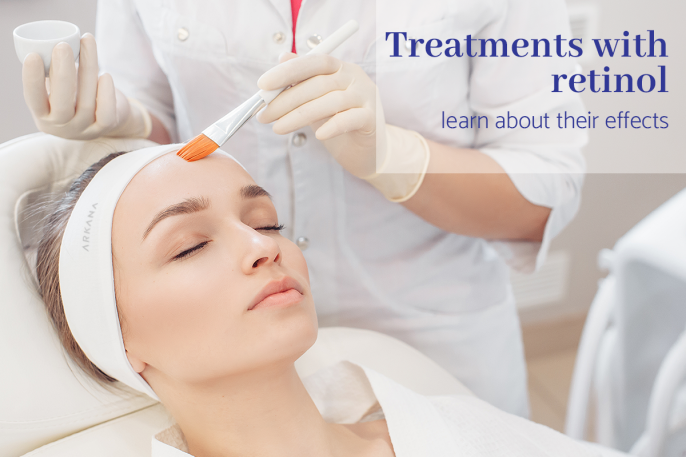 The most common association that comes to mind when we think about retinol? Exfoliation! And rightly so … Its exfoliating properties have been known in cosmetology for a long time. What can we achieve thanks to effective exfoliation? Brightening discolorations, reducing blackheads, as well as ANTI-AGING!
Effective chemical peeling? Retinol!
Retinol is a form of vitamin A that when used in cosmetics gives an effective anti-wrinkle effect. The rejuvenating properties of retinol are the result of stimulation of cell renewal, exfoliation of the stratum corneum, stimulation of collagen, elastin and hyaluronic acid production and inhibition of melanin transport to epidermal cells.
Reti Fusion® Vecti + Therapy retinol treatments
If you have had enough of ineffective fight against wrinkles, furrows, discoloration, photoaging, scars and acne lesions – you could not get better! Reti Fusion® Vecti + Therapy is the strongest skin rejuvenation treatment on 8 levels. All thanks to the wide use of retinol, whose action is multidirectional and confirmed by numerous studies. Our vector form VETICELL® RETINOL penetrates deeper than retinol in a traditional form. The addition of vitamins A, E and C has an antioxidant effect. In ARKANA therapy, we have prepared for you 2 different treatments that you can do in a beauty salon in your area.
EXFOLIATION TREATMENT WITH VECTOR RETINOL AND ENKAPSULATED VITAMINS A, E, C RETI FUSION® VECTI + PEEL
This deep retinol peeling strongly exfoliates the skin and stimulates cells to produce elastin, collagen and hyaluronic acid. Thanks to its strong stimulating properties, it reduces scars, eliminates wrinkles and brightens discolorations.
We advise you on what the procedure will look like so that you can prepare better for it:
the procedure in the beauty salon is relatively short, the cosmetologist puts a scrub on the face,
after 6-8 hours wash the product at home with water and then apply Post Treat Gel,
the skin can regenerate for about 28 days,
after 7 days, treatment should be continued through Reti Fusion® Vecti + Cream and Reti Fusion® Vecti + Essence Mask home care,
we recommend performing a series of treatments with a monthly break.
STIMULATING EXPRESS REJUVENATION TREATMENT WITH VECTOR RETINOL AND ENKAPSULATED VITAMINS A, E, C.
In this treatment we use retinol on the face in combination with a skin-stimulating skin massage. Thanks to this, the skin is rejuvenated, stimulated to produce elastin, collagen and hyaluronic acid. The treatment has antioxidant and anti-aging properties, increases skin oxygenation and stimulates cell metabolism.
After an express stimulating treatment, you can immediately go back to your daily duties. As in the case of the first treatment, we recommend continuing retinol therapy at home – autumn is the best time for strong peeling of the epidermis.