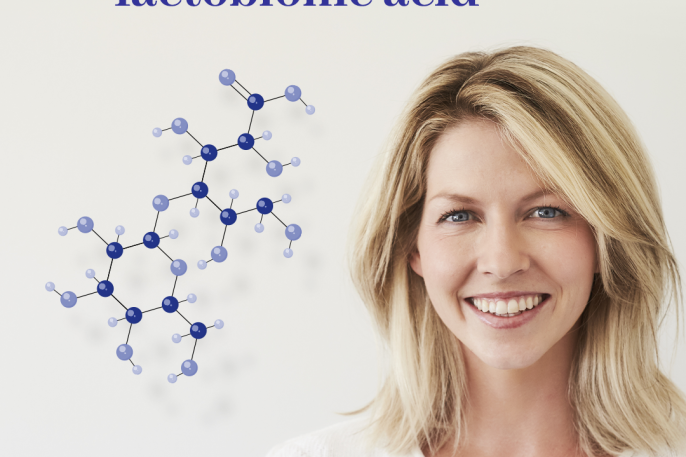 Lactobionic acid proves to be safe as well as strongly regenerating and soothing throughout the year. It is a perfect solution for skin requiring strong moisturization, especially after winter.
LACTOBIONIC ACID – WHAT IS IT?
Lactobionic acid is a new-generation hydro acid, the so-called bionic acid. It consists of a polyhydroxy acid molecule (gluconic acid) and sugar molecule (galactose). Its properties determined by pKa value are the same as the ones of glycolic acid (3.8) Similarly to other hydroxy acids, it regulates exfoliation, stimulates fibroblasts to produce collagen and elastin fibres and glycosaminoglycans in the dermis. In comparison to traditional acids it causes less irritation and thanks to the galactose molecule it has soothing and anti-inflammatory properties.
LACTOBIONIC REGENERATION
Lactobionic acid has strong regenerating properties and thus it is an incredibly delicate acid which soothes irritation, redness, inflammation as well as enhances the hydrolipid barrier. Due to its structure it is a strong humectant. It can bind and retain huge amounts of water, similarly to hyaluronic acid. It is a perfect ingredient of preparations for skin suffering from inflammation of different etiology: atopic dermatitis, rosacea and acne, seborrheic dermatitis and contact dermatitis. It is recommended after dermoesthetic treatments (chemical peels, laser therapy, needle mesotherapy) as it accelerates skin healing and soothes all inflammation. In addition, it supports the skin during and after treatments with retinoids or steroids. As a result, the side effects of medicines are reduced. While absorbing it, the skin is not irritated by subjective feelings such as itching or redness.
ACID WITH VERSATILE EFFECTS
Lactobionic acid inhibits matrix metalloproteinases and stops degradation of collagen and elastin as well as prevents the creation of telangiectasia. It seals dilated vessels. It has beneficial effects on microcirculation, thereby nourishing and firming the skin. Furthermore, it is a strong antioxidant and metal chelator as it delays chronological aging and photoaging. Clinical studies confirmed its anti- aging properties after just 3 months of application. Improvement of skin brightness, firmness and flexibility as well as elimination of minor wrinkles have been noticed as well. Thanks to its  antioxidantproperties, lactobionic acid reduces tissue damage caused by oxygen radicals and accelerates the renewal of cells of the dermis.
ALL-YEAR ACID EXFOLIATION
Products containing lactobionic acid can be used throughout the year. Bionic acids, due to their structures, do not demonstrate photosensibilization.
Therefore, they can be used both in the care of skin damaged by excessive exposure to the sun (for moisturization, regeneration), as well as extremely sensitive skin (vascular, with erythema), which must be treated extremely gently. Lactobionic acid used as an ingredient of chemical peel is delicate and it perfectly fulfils the function of peel. It exfoliates the stratum corneum, but in a way invisible to the human eye.
LACTOBIONIC THERAPY
ARKANA Lactobionic Therapy line includes products used both at a beauty salon and at home. A professional Lactobionic Sensi Peel can be successfully used in treatments of even most demanding and sensitive skin that does not tolerate other chemical peels. Thick gel consistency offers application, even around the eyes. The product contains 15% of lactobionic acid. Its properties penetrate the skin for a minimum of 10minutes. It does not require neutralization. Exfoliation is not visible. We recommend it as an independent exfoliation, but also an additional supplementary treatment with other acids (after 7-10 days). It is unique as it does not irritate. It removes flaky epidermis and accelerates regeneration.
Lactobionic Micellar Gel and Lactobionic Toner play a significant role, too. They remove make-up and other impurities, thereby reducing skin pH and preparing it to receive more products from the line. Proper preparation enables the applied acids to penetrate deeper to fulfil their role in rebuilding the skin and blood vessels. It is advised to combine the line with UniTone Forte-C Elixir or with serum and mask from Neuro Sensi line. It is recommended that the lactobionic therapy start with Lactobionic 5% & Hyaluron Cream, which supplements the therapy. Lactobionic 10% & Vit A+C
Cream should be added after 4 weeks. Creams have low pH and high concentration of lactobionic acid, which allows it to act in the skin at the appropriate level. It is worth focusing on the comprehensive care. The products included in the Lactobionic Therapy used one after another as the next steps of the therapy help regenerate the skin not only at the epidermis level, but also in the deeper layers of the skin.