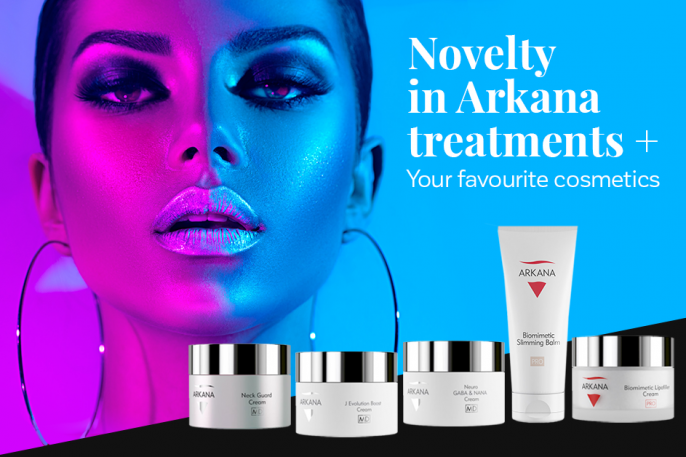 Autumn is another opportunity to refresh the offer of cosmetic treatments and to offer you something new. However, you do not have to give up your favorite Arkana cosmetics. Our latest treatments will be great in combination with your daily care rituals.
Neuro GABA & NANA Therapy – a facelift without a scalpel
The passing time impresses the visible mark on our skin. It leaves visible traces showing our age, habits, diet or health. You will not be able to stop time, but you can effectively slow down the aging process. However, this requires intelligent therapy. This is Neuro GABA & NANA Therapy, which is based on two neurotransmitters – GABA (gamma-aminobutyric acid) and NANA (N-acetyl-5-neuraminic acid). They are responsible for the transmission of signals between nerve cells and reach other cells in our body, causing a specific action – smoothing wrinkles and regeneration of the skin. As part of the treatment of Neuro GABA & NANA Therapy, you can perform a treatment in the Arkan's office using neupeeling from GABA and NANA. The effect is immediate – wrinkles are less visible, and the skin is instantly and thoroughly moisturized.
What's more, Neuro GABA & NANA Therapy cosmetics line perfectly combines with creams from the Biomimetic Therapy line, which is based on polymers and pure hyaluronic acid. Products from this therapy perfectly stretch the skin and fill wrinkles. They are therefore an excellent continuation of the office lifting treatment / or mask applied once a week at home.
Neck Guard Therapy – (not) difficult to care beautiful neck
The skin of the neck, although perfectly visible, is often treated with neglect. We forget about her care. We pay less attention to the fact that just as the face bears the marks of passing time. Neckerchief, golf is not a solution to the problem. You can change the condition of your skin after 3 weeks! Believe us with pleasure you will reveal it after the Neck Guard Therapy treatment, which affects the skin multi-direction. The therapy is focused, however, primarily on reducing deep wrinkles and furrows. The effect is to reduce wrinkles like "Venus bands" and "turkey neck", which are the result of an incorrect position when working on the computer, reading books or even sleeping. The skin on the neck has a tendency to flaccid, which results from the specific system of the broad neck muscle. One of the 3 stages of the Neck Guard Therapy treatment program is a massage that relaxes muscle tone and strong stimulation and smoothing wrinkles.
Procedure in the Neck Guard Therapy office combined with a biomimetic cream for the neck, cleavage and bust of a hypoallergenic formula, with a lifting lipofiller that fills wrinkles around the neck and a biomimetic peptide stimulating collagen production. With such care you take care not only of the skin of your neck, but also of the neckline, and you will also firm your breasts.
J Evolution Therapy – in good condition in autumn
Arkan's experts in the hands of a cosmetologist also gave a treatment based on the modification of the classic Jessner peel. J Evolution Therapy is an innovation in which safer and more effective hexylresorcinol was used instead of resorcinol. Peeling has been supplemented with lactic, citric and salicylic acid, a vegetable alternative to retinol – bacuchiol and vitamin C. This is a treatment that will help your skin stay well throughout the year. It is especially recommended for heavily damaged skin, with visible deep wrinkles, furrows and discolorations.
If your skin is thick and resistant to other peels, use home-made nourishing cream with retinol and ferulic acid for intensive rejuvenation. If the effects of photoaging are visible on your skin, choose a strong regenerating cream for sensitive and dehydrated skin. For wrinkles and furrows, nourish your home care with a rejuvenating cream with a plasma-lift effect, and for discoloration with a cream that brightens and evens out the skin tone.
Autumn in the offices of Arkana gives the possibility of an effective change, regeneration and rejuvenation of the skin .. Use them to care for the beauty of your skin. Combine home care with a professional, create a perfect duo for her and you.