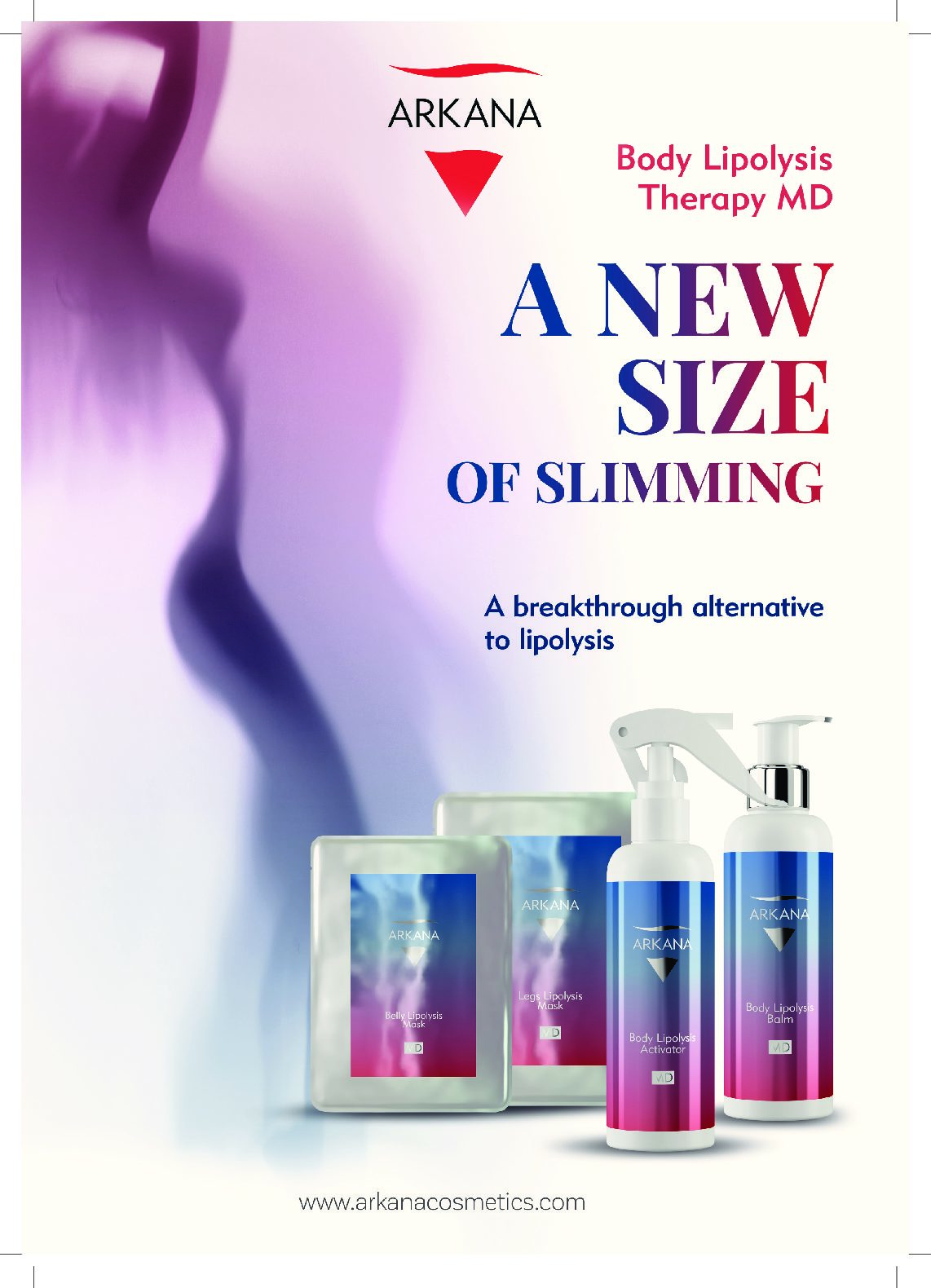 BODY LIPOLYSIS THERAPY
Professional alternative to lipolysis
Arkana has always been interested to create innovative treatments that are an alternative to invasive skin care methods. This time, the inspiration is lipolysis – one of the most popular aesthetic medicine treatments for the body. Body Lipolysis Therapy is focused on body modelling and cellulite reduction. A two-year cooperation between Arkana specialists and a scientific laboratory resulted in a non-injection supply of sodium deoxycholate into the fatty tissue.
For the first time in dermocosmetics
We used sodium deoxycholate, which is present only in preparations for injection lipolysis for the first time in cosmetology. Combined with L-carnitine and caffeine, placed in small and flexible carriers with a deformable membrane, it guarantees penetration into the skin. Active substances are effective in the highest recommended concentrations. They appear as two complementary components in the line: VECTICELL Lipolysis and VECTICELL Capsaicin. It is not only a non-invasive alternative, but also an active support of more invasive treatments, such as injection lipolysis, liposuction and treatments using technologies (endomassage, cryolipolysis, HIFU). It is also a perfect complement to more classic body treatments such as massages and SPA treatments, as well as during a reduction diet and physical activity.
Adipocytes stand no CHANCE
Both modern components reach directly into the body fat and only then they open and release active substances. Sodium deoxycholate effectively liquefies fat cell membranes, the so-called adipocytes, causing the release of triglycerides. Then, a harmonious duet of L-carnitine and caffeine comes into action. L-carnitine is an amino acid naturally occurring in our body, involved in energy and antioxidant processes. It accelerates the metabolism of fatty acids and has detoxifying properties. The advantages of caffeine in the slimming process do not need to be mentioned. Caffeine increases lipolysis by activating enzymes that cause the breakdown of fats and removes excess water from fat cells. It stimulates the microcirculation, facilitating the removal of excess water and toxins accumulated in body fat. The synergistic effect of VECTICELL Lipolysis is a reduction in the number and size of adipocytes.
In addition, Vecticell carriers are made of phosphatidylcholine, also used in injection lipolysis. After opening the carriers and release of active substances, phosphatidylcholine is actively involved in the metabolism of fats and in the detoxifying process. VECTICELL Capsaicin has been included as the other active component which combines the warming effect of capsaicin and the stimulating circulation of caffeine to maximize the effects of the therapy. Capsaicin is a natural neurotransmitter that has been used in pharmaceutical preparations with warming and analgesic effects for years. It increases thermogenesis and fat burning when used in a diet. Because these two substances are encapsulated in the carriers, they release gradually giving a feeling of relaxing heat. They work locally, do not irritate the skin and do not cause erythema. Warming has relaxing effects for the muscles and facilitates their regeneration after physical activity.
No side-effects
One more important aspect should be taken into account. The problem that we can face after a traditional lipolysis or liposuction is the loss of body fat which can cause difficult-to-remove flabby skin. Thanks to the lipolysis-like method, we obtain the effect of smooth skin and improvement of the flexibility and firmness of the skin in problematic parts of the body, such as the thighs, abdomen, buttocks and arms.
Proven success
Research conducted for 6 weeks on a group of 30 people who did not change their lifestyle or introduce a reduction diet showed surprisingly positive
effects. After applying the balm containing 5% OF VECTICELL Lipolysis, cellulite reduced by 1 degree on average, in some cases even by 2 degrees (classification by a dermatologist, where 0 means no symptoms and 4 means a significant degree of cellulite). Reduction of the thigh circumference up to 1.5 cm was confirmed. Reduction of subcutaneous body fat in ultrasound examination was confirmed.
Treatment for each beauty salon
Arkana has created a unique therapy convenient for every beauty salon. "Lipolysis-like" is a quick, clean and comfortable treatment, which can be
performed within an hour. The sandwich technique consisting in applying the preparations one on top of the other without washing, the use of sheet
masks and a disposable thermal blanket is not only a practical aspect, but primarily the effectiveness of all stages of the treatment even after its completion. Home care is an indispensable element of success. Therefore, the customer should use an activator and balm and additionally apply sheet masks once a week to maintain the effects. It is also worth recommending a warming spray to be used directly before physical activity, and a balm after physical activity, which will increase the effect of fat burning. It is also very important to promote a healthy lifestyle and make customers aware that healthy diet and physical activity are our allies in the fight against excess body fat.