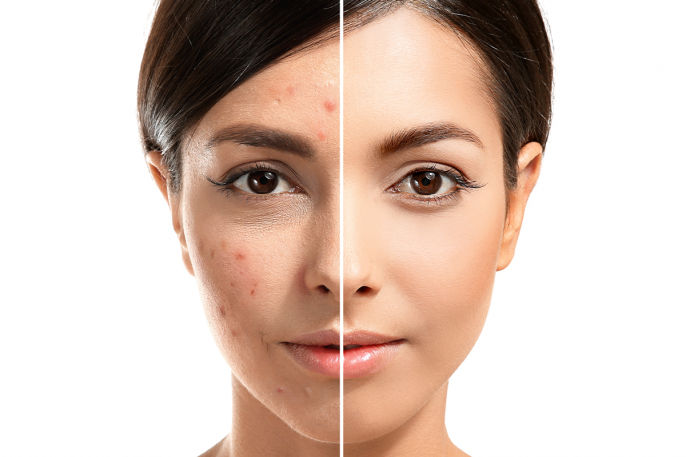 Is your skin sensitive and capillary? Bet on lactobionic acid! It is an extremely mild and safe acid that has regenerating and moisturizing properties. If you also struggle with the problem of acne – use azelaic acid in your daily care.
Acid for sensitive skins
Lactobionic acid is a new generation hydroxy acid, the so-called bionic acid. Like other hydroxy acids, it regulates the exfoliation process and stimulates fibroblasts to produce collagen, elastin and glycosaminoglycans in the dermis. However, compared to traditional acids, it does not have an irritating effect and thanks to the galactose molecule (which is part of the structure of this acid) – soothes irritations and has anti-inflammatory properties. It can be used in the summer – they do not show photosensitization – so they can be used both in the care of skin damaged by excessive sunbathing (to moisturize and regenerate) and extremely sensitive (vascular, with erythema), which must be treated extremely gently.
It has strong regenerating properties, and is an extremely delicate acid that soothes irritation, redness, inflammation, and also strengthens the hydro-lipid barrier. It is perfect as a component of preparations for skin care with inflammations of various etiologies. For this reason, lactobionic acid has been used in treatments intended for people with atopic dermatitis, rosacea and ordinary acne, seborrheic dermatitis and contact eczema. It is indicated for use after dermal aesthetic treatments (chemical peels, laser therapy, needle mesotherapy). Thanks to its properties that accelerate skin healing, it soothes inflammatory changes. In addition, it supports the skin during treatment with retinoids and steroids, thus reducing the side effects of drugs.
Its absorption through the skin is not associated with additional irritation or subjective sensations such as itching or redness. Seals blood vessels. It has a positive effect on microcirculation, which nourishes and firms the skin. In addition, it acts as a strong antioxidant, thanks to which it delays chronological aging and photoaging.
As an ingredient in chemical peeling, it is extremely gentle, but has an exfoliating effect, but in a way that is invisible to the eye. In a cosmetology office cooperating with ARKANA, you can arrange a treatment with lactobionic acid and purchase products with lactobionic acid for home care.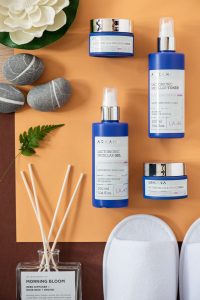 The power of azelaic acid
Azelaic acid is chemically a dicarboxylic acid that occurs naturally in wheat, rye and barley. Its action is similar to AHA acids, but it is more delicate. It is recommended for vascular and sensitive skin prone to erythema, but also for the problem of rosacea. Just like lactobionic acid, it can be used all year round, also in periods of greater sunlight. However, it is worth protecting the skin with an SPF cream at this time. It is recommended for sensitive, vascular skin prone to rosacea, but also for those that do not tolerate the effects of retinol. In 2002, the FDA (Food and Drug Administration) approved azelaic acid as a preparation for the treatment of rosacea.
Azelaic acid prevents excessive keratinization, thus preventing the formation of blackheads and blocking the sebaceous glands. It reduces the multiplication of Cutibacterium acnes and Staphylococcus epidermidis – bacteria involved in the formation of acne. Additionally, it reduces the activity of the sebaceous glands and regulates the secretion of sebum. Azelaic acid restores the proper pH level, reducing the content of free fatty acids in the lipid coat. As a result, the skin environment becomes less conducive to the development of microorganisms. In addition, it brightens and inhibits the formation of discoloration, thanks to the inhibition of melanin (skin pigment) synthesis. It specifically brightens discoloration and does not affect properly colored skin. In the case of acne skin with post-traumatic and post-traumatic discoloration, it is a valuable aspect of its impact.
You should also pay attention to azeloglycine – an active substance that combines the properties of azelaic acid and the amino acid glycine. It helps to eliminate the same problems as the azelaic acid described above, but additionally moisturizes and tones the skin.
ARKANA experts combined azelaic acid with azeloglycine in AzAc Therapy, creating an ideal solution for the care of problematic skin, struggling mainly with the problem of rosacea. In a beauty salon cooperating with ARKANA, you can undergo the AzAc Peel treatment, which thanks to the content of azelaic acid and a mixture of other acids, including almond – has a positive effect on acne-prone skin. You will see the effects after 4 weeks from the first treatment. For home care, we recommend AzAc Forte 15% Cream and AzAc Solution with azelaic acid and azeloglycine.