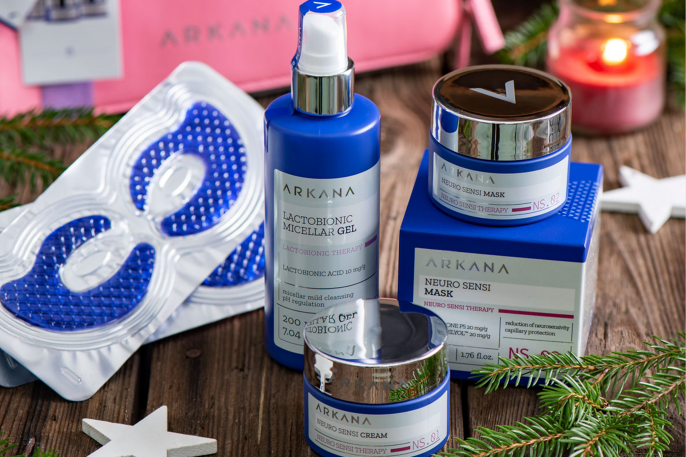 You can already feel the atmosphere of the uncoming Christmas. During this special time, we want to give our relatives an extraordinary gift. Are you wondering how to express your feelings and show care to your loved ones? Thanks to ARKANA you will give your loved ones beauty and spend unforgettable holidays together.
We invite you to discover ARKANA gift sets, thanks to which you will charm your loved ones with the perfect cosmetic gift.
We have prepared many gift proposals for you!
The first proposal is a full-scale relaxation for the body and soul – Sensi & Relax Set allows you to nurture the body from head to toe. In addition, it guarantees rejuvenating effects immediately after application. The set includes the Eye Full Effect Mask whose anatomical shape of the petals allows you to cover the area of ​​the upper and lower eyelids, and the concentrated composition allows for quick regeneration and rejuvenation of the eye area at home. Neuro Cannabis Cream is a neurocosmetic dedicated to stressed and dysfunctional skin, and thanks to the Kannabia Sense PLF component, it helps to eliminate the signs of aging and sadness lines. The set is complemented by Neuro Gaba Body Balm, which will allow you to nurture and rejuvenate the entire body. The entire care can be performed surrounded by the scent of a limited candle. Thanks to the cosmetic bag, we can take the set on a journey.
For demanding women
Do you want to give a gift to woman you love? Give her a new definition of femininity – set from the Woman Definition line with a limited oil and a mini endomassager will allow you to relax and rejuvenate your skin at home. The set includes two Eye Full Effect Mask masks – a set of cosmetics for a gift is packed in an elegant box that will work as a casket of the most valuable treasures.
Are you looking for a gift for a busy person? Give her a substitute for treatments and a set of bestseller masks that will give you rejuvenation, regeneration, detox, relief and a spectacular lift with firming the skin. Thanks to this, it will relax in the comfort of your home and take care of your skin.
Present for men
In our Christmas offer you will also find something for men – cleansing and deep nourishing the skin – in the cosmetic set for Christmas, men will find Amino Bio Cream, Enzymatic Peel and Eye Full Effect Mask. This is an excellent proposition not only for men, but also for women. Perfect for everyday care for proper cleansing of the skin, relaxation and protection of the skin, especially in winter.
Something for the people with sensitive skin
Are you afraid that the person you want to give the ARKANA cosmetic set has too sensitive skin? Do not worry! We have also prepared the perfect sets that will soothe sensitive and allergic skin, and will even be a great gift for people struggling with acne problems. Sensi & Cannabis Set is the perfect solution for people whose skin needs relief and is very sensitive, especially to external factors. AzAc Set is a proposal for those who struggle with imperfections, regardless of age.
Give youth
The gift cosmetics offer includes special sets dedicated to skins that need rejuvenation and anti-aging prophylaxis. The perfect proposition is Transform HA Set, which will be a dream come true for every woman, regardless of age, thanks to which she will obtain smooth and silky smooth skin without wrinkles. For the more mature, we recommend Eye & GABA Set – an icon among the rejuvenating lines. Cream and mask giving a spectacular lifting and smoothing effect, enhanced by the illumination of the eye area.
Original accessories
ARKANA gift cosmetics have been enriched with limited, stylish accessories. Among them you will find a stylish pink cosmetic bag that will contain all the necessary cosmetics for a trip, an elegant packaging that can then be used as a gift box, a limited relaxing Christmas tree that will add splendor to any home care and a luxurious velvet gift bag – also perfect for jewelry. Elegant packaging will make you happy at first sight, and the measure may only surprise your loved ones.
With ready-made cosmetic sets for the Christmas tree, you will find a gift for the most demanding. Thanks to our cosmetics, you can find the best present for people of all ages and skin types.