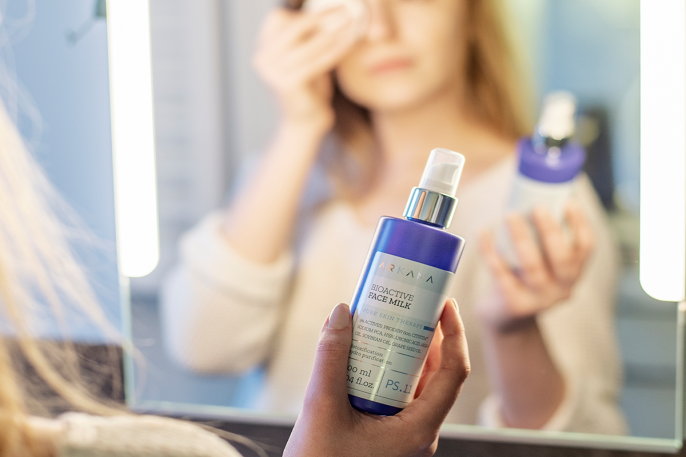 In all these difficult times, health should be a priority for all of us, which is why the whole ARKANA team signs under the slogan # stay home! I don't think there has ever been a better time to clean up, organize your thoughts, read overdue books, relax and … take care of your skin at home! So, if you can work in the home office mode or just started a forced vacation, take advantage of this privilege and take care of yourself, thanks to the professional advice of cosmetologists in your own home! Scheduled visits to the beauty salon at a later date will strengthen the effects of the right care steps as you can today introduce to your good habits. You now have the time to use the cosmetics you bought, but you did not have time to use them before, and to educate yourself on conscious skin care to ensure its health and safety. We recommend following our blog and the podcasts tab "Cosmetology of the future – through the eyes of experts". The knowledge of our experts will help you get to know your own skin and tailor care to its needs.
The perfect time for a real "no make-up"
When you sit at home all day, you can afford to rest from colored cosmetics. Stop for a moment using base, powder, bronzer, mascara and eyeliner. Give your skin time to detox. Reach for masks, scrubs, concentrated elixirs. Cosmetics for special tasks now have a lot of time to act (not only while sleeping). As always, we will emphasize the importance of thorough skin cleansing, morning and evening. Your support here will be products with different formula and method of application. Depending on your skin type and preferences, you can reach for micellar fluid, lotion or a delicate and thoroughly cleansing foam. The next step is, of course, to restore the proper pH of the skin using a tonic.
Zero waste and reasonable online shopping
Due to the fact that shopping malls are closed and the Ministry of Health recommends visiting stores only for the necessary items, there is no better opportunity for online shopping. Take the opportunity, use a mask in a sheet that you never had time for, regularly do enzyme or crystal peeling. Maybe you already have our products in your bathroom? We wrote about all necessary cosmetics that will enable you at home, comprehensive skin therapy on our blog on the occasion of "10 steps of Korean care".
If you need care products, we sincerely encourage you to shop online – thanks to them you will avoid clusters of people, which ensures greater security. When making an order – check what you need, think about products in a reasonable supply and ask the household members if they also do not need a care product. Yes, to order more once. Another idea that we suggest: to minimize the risk, choose payment in advance by card or online transfer and ask the courier to leave the package at the door. If you have the option, choose a parcel machine. Thanks to this, it will work without cash change and extra meetings.
We have prepared for you a list of ARKANA cosmetics that will make your afternoons spent at home more pleasant and take care of your skin:
Bioactive Face Milk (200 ml) – bioactive make-up remover milk with a creamy consistency based on delicate active ingredients effectively removes makeup and impurities, restoring skin softness and hydration.
Eye and Face Micellar Water (200 ml) – micellar liquid make-up remover is a delicate and odorless product that cleanses the skin of makeup and impurities accumulated on its surface during the day (dust, dirt and sweat). 12 amino acids, CitystemTM, sodium PCA, hyaluronic acid, panthenol and plant glycerin regulate the level of skin hydration.
Bioactive Face Toner (200 ml) – bioactive toner rich in active ingredients that provide an adequate level of hydration and restore the skin's physiological pH. Suitable for all skin types.
Cannabis Clean Foam (200 ml) – ultra-delicate foam that provides quick and effective make-up removal (including eyes), ideal for overactive and irritated skin. It is based on the "sweet" formula containing natural sugar washing agents and bio oils: hemp and poppy seeds. Already at the washing stage, it levels the hydrolipid coat, soothes irritations and moisturizes. Pleasant light texture, refreshing fragrance and practical packaging will meet the expectations of both women and men of all ages.
i-TECH Detox Mask (sachet) – even stronger home detox will be provided by a three-layer mask with hematite, platinum, biomimetic peptides, hyaluronic acid and plant extracts. Active ingredients smooth, moisturize, rejuvenate and regenerate the complexion.
Correct hand disinfection
If work, grocery shopping, walking the dog or other duties make you unable to stay at home, remember about hygiene. Thorough, recommended hand washing should last a minimum of 30 seconds – rub the inside and outside of the hands, thumbs, fingertips, and wrists. After thoroughly drying your hands and in conditions where we do not have access to water and soap, it is recommended to apply the product based on alcohol. Hand Protector ARKANA is a protective product designed for hand skin antiseptics. According to the leaflets that we can find in our boxes from the Chancellery of the Prime Minister – it is recommended to wipe hands with products with a minimum of 60% alcohol. Bearing in mind the difficulties in purchasing other disinfectants, we suggest using our product. Its main ingredient is alcohol – but it remains safe and gentle on the skin. Keeps your hands perfectly clean, which should be a priority for us in the current situation.