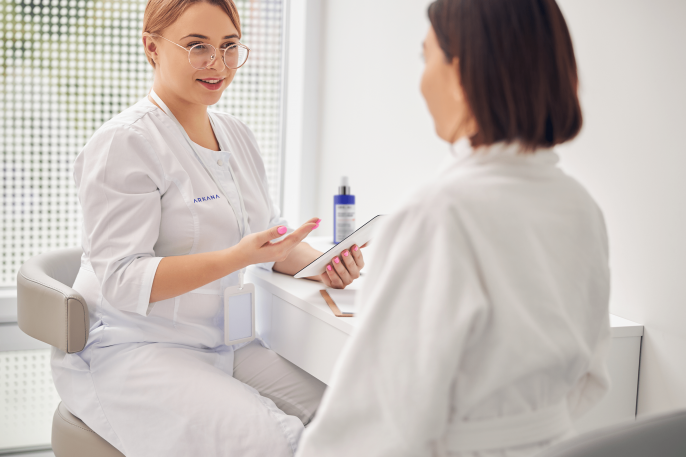 PRP – No. 1  at the dermatologist and in beauty salon
Platelet rich plasma (PRP) procedure is a safe and natural alternative to other pro­cedures stimulating skin renewal and, therefore, they are becoming very popular in dermatology practice. The method, which is commonly referred to as "vampire facelift", does not involve immunological risk.
PRP is one of the safest and most natural dermatologic procedures. More than 60 various biologically active sub­stances taking part in tissue repair and renewal processes are found in platelets. It's unique effectiveness and nume­rous alternative applications are another reason for its po­pularity. Platelet rich plasma mesotherapy is used for skin regeneration and rejuvenation, hair loss treatment, wound healing, and also for supporting scar and stretch marks tre­atments.
PRP efficiency
PRP procedure activates different types of skin cells (kera­tinocytes, fibroblasts and vessel endothelial cells) with gro­wth factors (GFs)and these are the most important element of PRP treatments. Growth factors stimulate epidermal and dermal cell renewal processes, elastin and hyaluronic acid synthesis activate collagen and support skin repair proces­ses preventing skin ageing.
The higher concentration of growth factors, the more effec­tive are regeneration and repair results, they also stimulate the formation of new capillary vessels and fibroplast multiplication, and they activate stem cells. Results of growth factors activity are production of new collagen and elastin, initiating of skin healing and regeneration and restora­tion processes. Growth factors also stimulate hair follicles, which is used for hair loss treatment and hair density im­provement.
The skin is tighter and brighter after only 1-2 weeks, hair loss is stopped and, subsequently, growth of new hair can be observed after hair loss treatment.
Autoimmune diseases, blood clotting disorders and taking drugs influencing blood clotting, acute inflammatory dise­ases, including purulent skin conditions and herpes, as well as pregnancy and lactation, are common contraindications for the application of platelet rich plasma.
PRP Therapy – cosmetics with medical efficiency
A new field of medicine, i.e. regenerative medicine using autologous materials, such as platelet rich plasma, or stem-cell therapies in or­der to rejuvenate body cells, has emerged in recent years. Scientists interested in "stopping time" and "regeneration" have still looked for alternative active components able to successfully replace sub­stances of natural origin. Years of laborious research and experi­mentation have made it possible to discover two unique peptides: W3 and GHK- Cu. What is so special about them? They successfully imitate natural growth factors released by cells aimed at stimula­ting growth and differentiation of other cells. This is a real break­through and, simultaneously, the beginning of the development of regenerative cosmetology.
Mysterious receptors versus PRP effect
G-Protein Coupled Receptors (GPCRs) are intelligent receptors found in cell membranes, which are responsible for receiving signals ne­cessary for important life processes. Their discovery was awarded with the Nobel Prize in Chemistry in 2012. Scientists have gone even further and created W3 Peptide, which, being based on the innova­tive strategy involving the combination with the GPCR receptor in skin cells, activates the metabolic cascade leading to regeneration.
It has been called W3 because it acts in a three-pronged way:
W1 – the first prong of its activity uses research on wound healing and regeneration processes
W2 – the second prong involves stopping and reversing ageing processes
W3 – the third prong consists in preventing the occurrence of pigmentation disorders connected with ageing. Additionally, its potential to stimulate hair growth and stop hair loss has been shown.
The comparison of its effects and platelet rich plasma (PRP) effects has become a revolution. The comparison of the influence of the 2% W3 Peptide and PRP on human keratinocytes and fibroblasts has de­monstrated stimulating effects of W3 Peptide similar to the effects provided by the growth factor. The GPCR receptors found in these cells are responsible for the regeneration signal just as following plasma administration. As a consequence, there is an increase in the number of new cells and the quantity of procollagen I, collagen IV, decorin and fibronectin. It is worth noting that the decorin men­tioned above is a small but very important proteoglycan regulating the process of collagen synthesis, wound healing and anti-tumour defense involved in regulation. Fibronectin , in its turn, is a plasma component necessary, e.g. during the process of cell renewal.
"Copper" youth carrier
GHK- Cu, i.e. the latter breakthrough peptide, has been discovered in human plasma. Research has confirmed that it is also found in saliva, urine and collagen. Furthermore, it has been found that it has a significant impact on repairing and preserving all types of our organism tissues. The above stems from the fact that it is always released in situations of traumas in order to support the organism in the repair process. Its effects are particularly visible in the process of healing various types of wounds. The above has been confirmed by a large quantity of scientific evidence. For this reason, GHK- Cu has been recognised as a strong tissue remodelling activator. This unique signal peptide influences the synthesis of collagen, elastin, GAGs and proteoglycans, such as the already mentioned decorin. Mo­reover, GHK- Cu protects cellular DNA against harmful effects of UV and free radicals, reduces photodamage and levels pigmentation. Clinical research confirms that it also stimulates hair growth and stops its loss.
The unique efficiency and safety of GHK-Cu documented by a we­alth of research ranks it as a crucial factor in the reversal of ageing processes and regeneration at the cellular level. Application of the pure peptide in concentration between 0.05 to 0.3% slows down the ageing process and reverses its effects. GHK-Cu may also be used after aggressive dermo-aesthetic procedures for accelerating re­generation, eliminating side effects and increasing their efficiency.
Plasma-lift effect – alternative to platelet rich pla­sma procedures
Inspired by regenerative medicine, Arkana has combined these two unique peptides into a single original formula with the pla­sma-lift effect. "Plasma" is the accepted name of plasma and "lift" is connected with the real therapy remodelling skin and restoring youth. PRP – like Therapy is a unique line of dermo­cosmetics giving the PRP–like effect. Original dermocosmetics belonging to this line make it possible to conduct a procedure imitating platelet rich plasma effects and reinforcing other der­mo-aesthetic procedures.
Professional serum contains the highest dose of peptides in a spe­cial emulsion formula increasing their penetration. You will achieve the best results if you insert them with the help of the new Frax Stamp for fractional skin stamping. The ideal (1.5 mm) length of (40) needles plated with 24-carat gold is the recipe for the most spectacular effect of the procedure. It is this needle length that ensures reaching dermis, where it activates a cascade of growth factors, which, together with the W3 and GHK-Cu peptides, activate remodelling and regeneration processes. The stamp construction allows for a comfortable and less painful procedure. For persons preferring procedures conducted with the help of devices Arkana has prepared a cost-efficient and handy version of the Stamp Pen with 36 microneedle cartridges. Ultrathin needles insert serum into the skin more comfortably for the Customer and cause no damage to the skin.
And a small digression: the PRP serum stamping procedure may also be introduced as a head skin procedure for persons with tri­chological problems.
Oxygen Infusion Mask, which perfectly prepares skin for the proce­dure, i.e. reduces the epidermal barrier, oxygenates and increases serum assimilability, is recommended to be prepared before skin fractionation.
The special PRP sheet mask is applied after fractional needling. Its structure "imitates" human skin, owing to which it perfectly adhe­res to the skin and ensures deep penetration of active substances. Additionally, the mask has special eye sheets. At the end of the pro­cedure PRP Elixir is applied around eyes and PRP Rejuvenator – on the rest of the face and neck.
This pair of products should accompany our Customers during the whole treatment. As a home care, depending on the skin condition and treatment intensity, the elixir should be applied under the cream once or twice a day. It is also recommended for eye area care. Moreover, the special cream formula contains chia, inca inchi and babassu oils rich in omega-3s, omega-6s and vitamin E, which provide an anti-wrinkle effect, improve elasticity, nourish and moisturize the skin. Thanks to them, after cream application the skin is smooth and receives a velvet touch.
You can also offer your Customers a kit containing a 0.5 mm long stamp, which, used together with the elixir between procedures, will reinforce professional activities. Such a needle length allows only for increasing the quantity of serum provided to the epidermis, owing to which, it ensures safety under domestic conditions of use and does not interfere with the usage of a professional stamp.
Indications:
skin requiring fast and total regeneration
with ageing symptoms of various levels of intensification together
with skin density loss
PRP-like procedures
therapies preserving effects of dermo-aesthetic procedures
trichological therapies
anti-ageing prevention
Active substances:
W3 PEPTIDE INSPIRED BY THE NOBEL PRIZE IN 2012 FOR THE DISCOVERY OF CELLULAR SIGNAL RECEPTORS
non-invasive alternative to PRP
remodels and regenerates skin
stimulates rejuvenation processes
stimulates hair growth and stops its loss
GHK-CU APPLIED IN REGENERATIVE MEDICINE
reactivates skin stem cells
stimulates regeneration processes
repairs and restores skin
reverses the ageing process
stimulates hair growth and stops its loss
CHIA OIL
bio-oil rich in omega-3s, omega-6s and vitamin E
exhibits antioxidant and anti-inflammatory properties
provides lipid supplementation, moisturizes and elasticizes skin
INCA INCHI OIL – THE "TREASURE" OF THE INCAS
provides an anti-wrinkle effect and improves elasticity
gives velvety finish